News Details
Transformers: The Lament Configuration - Voyager Megatron
It's starting to look as if the Voyager scale figures are going to be the most popular of the launch wave for this new Hasbro line. Launching, of course, on "May 16th" which means that they are already available at every corner drugstore just about. Have you ever seen the shipping boxes with the shelf dates? They're great - big blaze-orange signs on the side of each one - not something you would miss. I have to imagine that it's a quiet corporate decision to start shelving this product; some sort of toy-arms-race if you will. I guess once one store does it, you're losing sales unless you keep up.
So today, let's glide into the weekend with a look at Voyager Megatron! This was one of the first figures from this line that I saw sneak-photos of some months ago, and I was intrigued by the 'cape' effect thing that they did here. Of course, it's molded plastic, not a soft good, but cool none the less. Hey - that's an interesting idea - a soft good on a Transformer...hmmm. Anyway - click the image below for the full gallery of the latest incarnation of Megatron...still not a Walther P-38.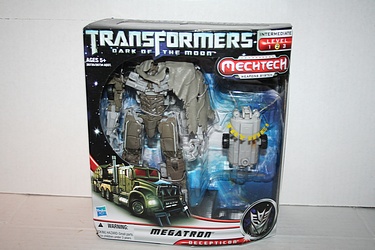 Posted by charlie on May 13th 2011, 08:30 AM
Leave Comment

Share
---
No comments have been posted.
---