News Details
Sega Master System - Shadow Dancer - The Secret of Shinobi
It's been a while since I've done some good, honest, video game coverage here at the Preserve. It would be most tragic to earn a place right off of the 'classic gaming' links list at the
page
of dear Gnome! To avoid that terrible eventuality let's take a look at Shadow Dancer for the
Sega Master System
!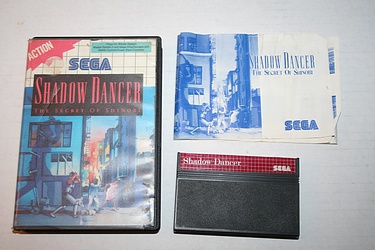 This is one of many many games that were only released in non-U.S. markets. This particular copy came from Australia, and interestingly the instruction manual is only in English, and is a multi-fold single page, instead of a booklet. While the text for each language on the back of the box is short, I especially enjoy a reference to 'Death Stars' and a crucial space mission. As always, click the image above for a few more looks at this game, and have a great weekend!
Je machtige zwaard en Ninjutsu Magie!
Posted by charlie on May 27th 2011, 02:25 AM
Leave Comment

Share
---
No comments have been posted.
---