News Details
Sega Master System - Chase H.Q.
We ended last week on a fantastic
Sega Master System
note, so let's start out this week the same way! Here is another import title, direct from Australia, arriving along with Shadow Dancer. Check it out by clicking through the image below.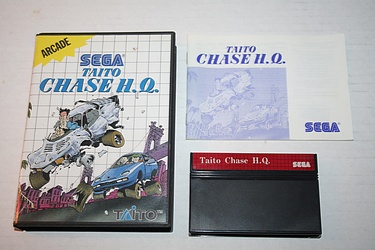 I always enjoy the plot that game developers hang on a play mechanic that is basically a re-tread, and here we have a standard 3rd person racing game with a great background plot. The box-back may be short on English, but it's long on awesome.
La chiamano CHASE H.Q. e il suo obiettivo e quello di arrestare i criminali che fuggono in automobile dal luogo del crimine.
Posted by charlie on May 30th 2011, 07:29 PM
Leave Comment

Share
---
doctorkent
May 30th, 09:14 PM

Listen, when I come up there, you have to have this system hooked up so I can play. I have a hard time believing that a Master System game can be that good.
cparry
May 31st, 08:11 AM

Indeed, the plan is to have the game room back up and running! Just have to get some Army Gear, Flash Force 2000, MOTUC and assorted other backlog of new toys out of the way. Also hope to make room for the amp and guitar again, so I have not only a TG-16 / Master System fun room, but a practice space as well!
---