News Details
Air Raiders - Wind Razor Battle Dasher
Here's one from out of left field, what with the deluge of
Transformers: Dark of the Moon
and
G.I. Joe: Pursuit of Cobra
figures that we've been swimming through lately - it's Wind Razor! A Battle Dasher from the 1987
Air Raiders
line by Hasbro! This vehicle from the Tyrants of Wind (bad guys!) is piloted by Sergeant Razorback and Private Dak, and can achieve a maximum speed of 200 knots on its stabilized jet stream. Be sure to click through and learn more about this great addition to the Air Raiders line. While you're there, check out 'part three' of the pack-in comic, one page of which came with each vehicle in this series!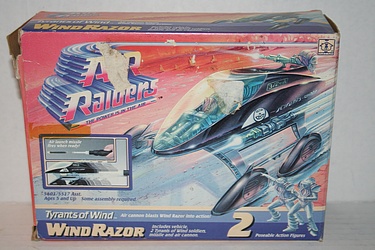 Posted by charlie on June 7th 2011, 02:58 AM
Leave Comment

Share
---
doctorkent
June 7th, 06:17 PM

I want to build this mib beauty like there is no tomorrow.
cparry
June 7th, 06:53 PM

Oh man, I'm sure we can find one that's not still mint bagged!!!
doctorkent
June 7th, 10:01 PM

Must be mint in bag, untouched. Must be fresh. Must be...vintage. (now go look up songs from Little Shop of Horrors, lol)
cparry
June 8th, 05:41 AM

Alright Seymour, but we still ain't feeding you with the minty bagged Air Raider!

Maybe some Lord of the Rings figures or something, or a nice Titanium Transformer 2007 vintage...like a fine wine.
doctorkent
June 8th, 04:09 PM

I need Air Raiders, and you've got more than enough!
(Still Little Shop of Horrors)
cparry
June 9th, 06:15 AM

Starting up an Air Raiders collection on the heels of your Starcom triumph? Well, you could choose worse lines, for sure! Sadly a Man-O-War was on eBay a month ago and didn't go for that much...super rare! Not likely to see another for quite some time.
---