News Details
G.I. Joe - Pursuit of Cobra - Crazy Legs
Next on the list of wave 6 figures from the
G.I. Joe - Pursuit of Cobra
line is Crazy Legs! I'm always so pleased by the 'code names' of many characters in the Joe universe, and I'm certain to not be alone in classing this one near the top. I think what makes it even better is the hilarious pose they have him striking in his package. Click through to learn more about D. Oliver Thomas from Fort Dodge, Iowa, and what makes him yet another invaluable member of the G.I. Joe team!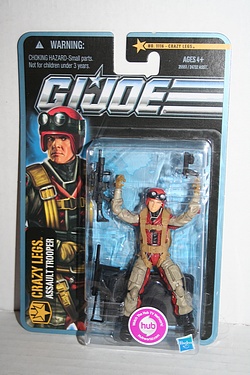 And yes, I assume the pose is supposed to simulate a free-fall before the parachute is pulled, but I like to think of it more like he's doing a delightful interpretive dance, with Gung Ho and Shipwreck clapping wildly and cheering him on.
Posted by charlie on June 8th 2011, 08:45 AM
Leave Comment

Share
---
No comments have been posted.
---