News Details
G.I. Joe - Pursuit of Cobra - Cobra Viper
We've been on Joe overload this week, so a little more won't hurt, right? I figure we're making good progress through wave 6 of the
G.I. Joe - Pursuit of Cobra
figures, so let's keep that party going with the latest version of the iconic Cobra Viper!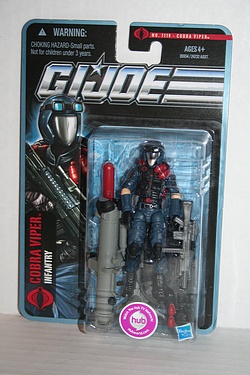 This figure has the vac-metal, shiny face plate, akin to what we saw in the
Hall of Heroes version, and appears to be an all around solid figure. Interestingly he's packaged with one of the giant 'play action' firing weapon things, that in theory kids demand. This was a clumsy feature that had mercifully been lacking from other releases in the Pursuit line, but I guess we didn't get off scott free. Still, it's a great figure on it's own merits, and well worth your time if you can track one down - which I hear is still no easy task! Best of luck to the troop builders, and to the collectors who just want one, and have a great weekend!



Posted by charlie on June 10th 2011, 07:14 AM


Leave Comment

Share
---
No comments have been posted.
---