News Details
G.I. Joe - Pursuit of Cobra - Iron Grenadier
Well, it sort of awkwardly straddled a weekend, but let's finish up the rundown of the wave 6 figures from the
G.I. Joe - Pursuit of Cobra
line. The last figure in this subset, #1120, is the Iron Grenadier!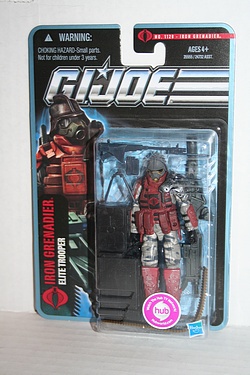 Hand picked by Destro for their awesomeness and powers in magic (not that second one), these are some seriously elite Cobra soldiers. This guy comes with a pile of accessories, to which we have grown accustomed, but my favorite has to be the
depleted turnbinium ammo backpack
. That's almost cooler than an 'alternate head'.
Posted by charlie on June 13th 2011, 07:39 AM
Leave Comment

Share
---
No comments have been posted.
---