News Details
Transformers - Reveal the Shield - Gold Bumblebee
Where there is an Optimus Prime at any certain scale, you can be fairly certain that a Bumblebee figure is not far behind. Such is the case in wave 4 of Legends figures in the
Transformers Reveal the Shield
line. What's cool, though is that we aren't just getting a regular old yellow Bumblebee, but we're getting Gold Bumblebee!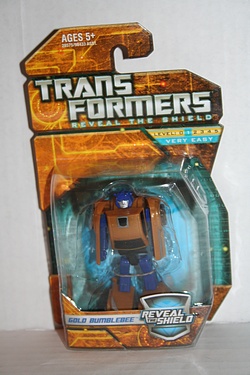 I like to believe that this is Goldbug from the 1987 Throttlebot sub-line in the original G1 toy line. I have to imagine that's exactly the case, but that the clever people in marketing decided that a new character wouldn't sell as well as one they've already made and remade a hundred times....well, I do wish they'd take a chance now and then, but it's still great that the figure got made. Heck, for all we know the name 'Goldbug' is unavailable due to the vagaries of copyright law, so this works out just as well!
Posted by charlie on June 16th 2011, 08:46 AM
Leave Comment

Share
---
No comments have been posted.
---