News Details
Transformers - Reveal the Shield - Prowl
Well, the new Transformers movie has been out for a day now, and the reviews and earnings are pouring in. So far, the consensus appears to be that "it is better than the second one" which somehow is a compliment. Well, don't get me wrong, I'm glad that it's not the same or worse than the second one! So, on the strength of that, and that the 3D is supposed to be pretty well done, maybe it is worth the time and effort to see in my local mini-mega-plex. It's also earned about 16million so far, and it will be interesting to see what that number grows to after the holiday weekend.
In the meantime, let's finish up the 6th and final Legends class figure from the Reveal the Shield sub-line of earlier this year. Here we have Prowl, in his great G1 colors! Click the image to see a few more angles of this figure, that I certainly never saw in stores!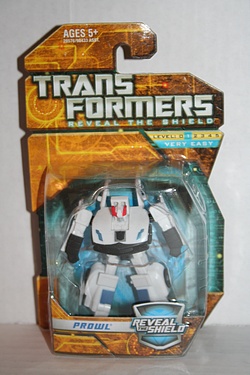 Posted by charlie on June 30th 2011, 06:04 PM
Leave Comment

Share
---
No comments have been posted.
---