News Details
Transformers - Dark of the Moon - Hatchet
I admit that I haven't been buying very many of the
Transformers - Dark of the Moon
figures, having grown weary of the Bay-style bots. However, thanks to the huge amount of money that the movies have brought into Hasbro - and the latest one is on track to be the biggest win yet - they have been given the flexibility to kindly make Transformers figures that appeal directly to us adult collectors who are more set in our ways. I figure I'll simply bide my time and wait for the cool stuff they are no doubt working on even now.
That being said, my local KMart somehow turned up the third wave of Commander figures from the new movie line before any sign of them has appeared elsewhere in town, and elsewhere in most of the country. What I discovered in this wave is Hatchet, and I admit that it's my favorite figure I've yet seen from this line. In general I'm a big fan of the "Scout", now called "Commander" class of figure, as I feel it has just the right level of detail, ease of transformation (for my old brain), price and play factor.
I think this figure is still pretty tough to track down, especially since the pegs appear to be clogging a bit. Not sure if that's a subtle indication that kids aren't gobbling up the movie with enough gusto, which usually translates into product sales, but with clogging comes the dreaded inability to find later waves of product. At least you know Hatchet exists now, and that he's cool, and that you should keep an eye out!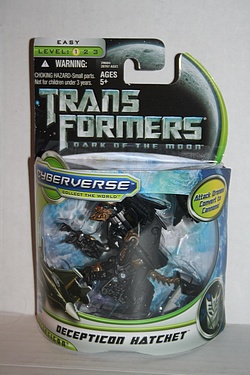 Posted by charlie on July 6th 2011, 07:50 AM
Leave Comment

Share
---
No comments have been posted.
---