News Details
Transformers - Reveal the Shield - Deep Dive
Partnered along with Grappel in the recent mysterious release of last-wave figures to hit the national discount stores, Deep Dive is also to be found for the astute toy hunter. While my notes place him in a solitary one-figure wave 5, the true final wave, it's clear that he's shipping with the wave 4 set, and here he is in the Preserve! Click the image for more details on this cool looking repaint.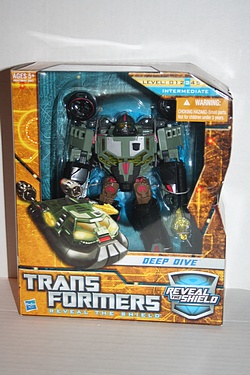 Posted by charlie on July 7th 2011, 11:09 AM
Leave Comment

Share
---
doctorkent
July 9th, 11:04 AM

He's the only one that is left behind by the unrelenting onslaught of collectors through South Jersey stores.
cparry
July 9th, 08:19 PM

Yes, poor Deep Dive. Even at the store where I found my set this was the only figure present in duplicate, so possibly shipping heavy in the case.
doctorkent
July 10th, 06:33 PM

I've been trying to find a listing, but EE seems to have taken theirs down.
cparry
July 10th, 06:42 PM

And so that data would be lost to the ages - but we'll Preserve what we can right here!
---