News Details
Matty Collector News for 2012
Ok, it seems that I can't resist. The gravitational pull of all this new information is simply too strong to escape entirely! This is a good one, though, since it's both a 'sneak peek' of sorts, and a really abundant, numerous amount of data as well. Seems that Mattel has posted not one, not two, but
FOUR
subscription plans for 2012. You simply must
check them out
!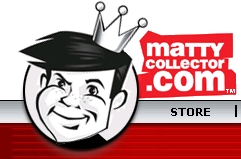 There you will land on the Voltron subscription page, and will learn that all 5 lions (which form into a 23" Voltron figure!), as well as all 5 pilots,
AS WELL AS BONUS SVEN
, are all part of the (reasonably priced!) 2012 subscription. Links are there for the Masters of the Universe Classics plan, as well as an astonishing 2nd year for Ghostbusters, and a first year for DC Universe.
There's a lot there to be surprised about - including the recent alteration of the just-posted figure schedule for MOTUC leading some to speculate that they tipped their hand early. We're sure to have more announced and confirmed at the Mattel panel at SDCC later this week, but for now check out their site with all of these great options. Then - subscribe on 7/22/2011!
Posted by charlie on July 20th 2011, 07:14 AM
Leave Comment

Share
---
No comments have been posted.
---