News Details
Picture of the Week - Tim Dunigan and Jessica Steen
I've seen a lot of cool pictures this week.
I mean, it is San Diego Comic Con - happening even as I type this. The various awesome folk from Blair Butler, Jimmy Palmiotti, Adam Pawlus and anyone you can imagine have all descended on that fair local, which is miraculously spared from the heat wave that most of the rest of the country is currently suffering. The assembled hoards of toy and comic and entertainment bloggers are wearing their camera and keyboard fingers to painful little nubs, generating content for the rest of us lame-o couch jockeys, sitting at home, hanging on their every word. Well - of all the amazing things that I've seen this week, I think I've found my favorite - and it has little to do with SDCC at all.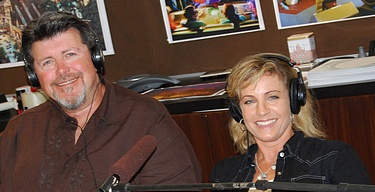 That is Tim Dunigan and Jessica Steen - you may better know them as Captain Jonathan Power and Corporal Jennifer 'Pilot' Chase. The show is one of the very favorite things around the Preserve, hearkening from 1987 and much like Babylon 5 it is the brainchild of one J. Michael Straczynski; recent news has been that they are revitalizing the brand for 2012 (so sayeth
facebook
). There's a DVD coming of the old show, and some vague, as yet unspecified revival as well. That image is, I believe, from the recording of the DVD commentary track for a few episodes that Dunigan and Steen provided for this new release, which is of course a mandatory purchase for anyone who ever enjoyed the show.
I'm just made very happy by it, and felt that, in this wash of 'new media' pouring out of San Diego this week, I could think of no better way for us all to sail into the weekend. Gotta get me one of those.
Posted by charlie on July 22nd 2011, 06:38 PM
Leave Comment

Share
---
No comments have been posted.
---