News Details
Masters of the Universe Classics - Hurricane Hordak
In the classic line, this re-issue of Hordak was a late-wave piece from 1986 - it is one that I do not remember very well, and more than likely never added to the original collection. I think I had begun to drift away from the line and had gotten more focused on the robot side of the toy world than the humanoid one, and MOTU suffered as a result. Of course, I have no doubt that when my Dad saw Eternia in Toys R Us, that it blew him away as much as it still does to me, and that's precisely why I got it that magical Christmas day, regardless of my current state of MOTU interest.
As usual, the Horsemen have done a splendid job of updating this figure and his various Thunderball weapons - and check out that vac-metal chest plate! Click the image for the gallery and bio.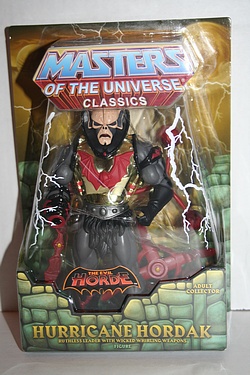 Posted by charlie on September 26th 2011, 02:33 AM
Leave Comment

Share
---
No comments have been posted.
---