News Details
G.I. Joe - 30 for 30 - Police K-9 Unit
Do you recognize this figure? The 12" Police K-9 Unit from the currently-in-stores
G.I. Joe 30 for 30 collection
? Of course you do - because no one is buying them! In fairness, this one seems to sell the best out of the set of 12" figures that are currently available, at least in my neck of the woods. I suspect it's because of the cool looking K-9, regardless of dismal articulation.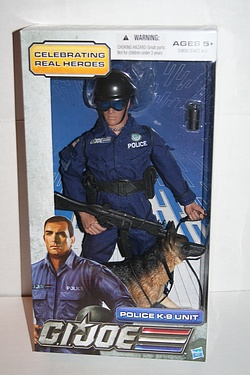 I remember that ages ago we asked Hasbro in the Joe Q&A what the future looked like for 12" figures, and were assured that there would be none. Well - it's great that they surprised us with this line, and we were so delighted to see them at Toy Fair. Better still, they have actual soft goods on the figures, which has, in the past, been a severely lacking feature which makes these seem higher quality and worth the $19.99 price.
Problem is? I think they would have done better to celebrate the 30th anniversary of G.I. Joe with some named characters. I suspect that a Roadblock or (of course) Snake Eyes in this scale with an actual cloth outfit would fly off the shelves. I sort of understand their plan with these figures (well, not really) but think they missed out by not using their own characters. Hopefully enough of them sell that we ever see a wave 2, but it's likely that this will just fizzle out, and soon we'll be slapped full force with the sure-to-be-massive line in support of the upcoming live action movie in 2012!
Posted by charlie on September 29th 2011, 05:29 PM
Leave Comment

Share
---
No comments have been posted.
---