News Details
Midway's Surface to Air Missile Interceptor (S.A.M.I.)
If ever there was a great example of why I see arcade machines as beautiful works of art, this Midway game from 1970, S.A.M.I., is surely a perfect example. I ran across this one while doing a semi-local search for machines of the arcade variety and it stopped me dead in my tracks with art that is so bold, so perfectly of it's time, that it demands to be appreciated.
Let's end the week on this, shall we? And remember a time when a game, like a TV, was a piece of furniture, not a mere suggestion of technology that allows you to consume ever-less-permanent constructs of an ever-accelerating society. Time to go dust off a pinball machine - have a good weekend.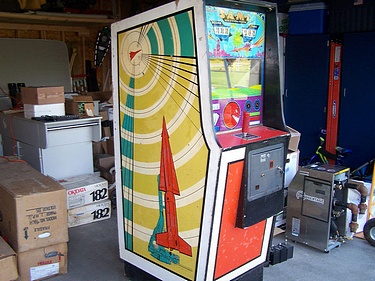 And any long time readers of the Preserve probably recognize how I enjoy the context of this photo - the piece of art in the cluttered garage - a true still life for our times.
Posted by charlie on September 30th 2011, 09:14 PM
Leave Comment

Share
---
No comments have been posted.
---