News Details
eBay Watch - Mound of Madballs
Do you need a huge pile of vintage Madballs? Of course you do! We all do! Well, you're in luck then because there are still 14 hours and change left to bid on this colorful and horrible
box of madness
. If you have the means, throw your disfigured hat in the ring and see about scoring an overnight Madball collection!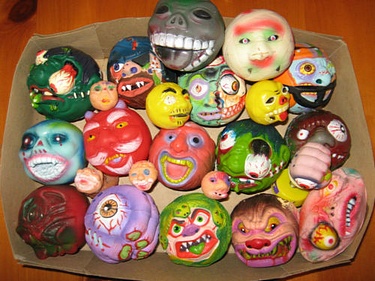 Posted by charlie on October 3rd 2011, 06:49 PM
Leave Comment

Share
---
doctorkent
October 3rd, 09:12 PM

WANT! Oh, wait...I got all the official Madballs. But I would really like the weird-ass one in the lower right hand corner of the pic. Mad-tastic! (guitar riff)
cparry
October 4th, 06:01 AM

Somehow I had a feeling you'd enjoy that auction! I know that there were a number of knock-off lines that are contemporary with the first run of Madballs - could be a few of those are peppered in that lot.
doctorkent
October 4th, 08:11 PM

Brings up an interesting question that no one could answer, not even Mona Lisa Vito - what is the most knocked-off line of all time? Conventional wisdom says it was the Gobots or Spider Man.
---