News Details
eBay Watch - Dr. Claw by Tiger Toys
In 1992 Tiger Toys released a quite wonderful line of Inspector Gadget figures, which I've been meaning to add to the Preserve for quite some time. Several years ago while in Toronto, I had the chance to stop by the Sunday Flea Market right in the midst of downtown, and to my delight one fellow had brought out the vintage toys. In particular, I scored a carded CANADIAN Dr. Claw, as well as a carded Penny figure.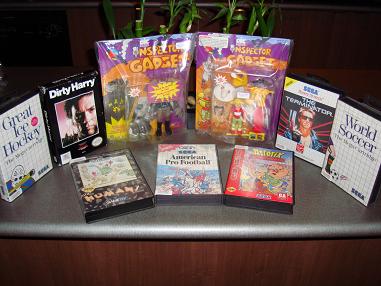 The Claw figure was packaged in such a genius way so as to obscure the admittedly upsetting face that they made for him, and it was probably a great sales tactic. There was no looking things up in 5 seconds on the Internet that day, I can tell you. Certainly in watching the show, we all wondered what terror was always right off camera, and what this arch enemy of our android detective buddy really looked like. I don't know the details of how Tiger was able to finally create the definitive visage for Claw, but I'm glad they did! Here's a close-up of the Canadian card.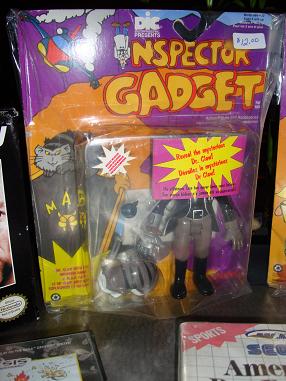 This all leads me up to today's eBay watch, and a picture of the uncovered Dr. Claw! I guess I still feel like it should be a semi-secret, for anyone who hasn't seen it yet, so I wanted to at least move it down here below the 'fold' as it were. Claw even comes with Gadget and M.A.D. Cat, so it's a great deal!
Mouse-over the placeholder image below to see the Tiger Toys face of Dr. Claw! (I suspect most of my readers already have, but it's fun anyway!)

Posted by charlie on October 4th 2011, 06:33 PM
Leave Comment

Share
---
doctorkent
October 4th, 08:11 PM

Dude, you opened him? (yah right, I know it is a pic from a different place. Toyfinity that s*$*!
cparry
October 4th, 08:20 PM

Certainly not good Doctor! That Canadian card is the rarest of the rare! However, I should have made it more clear that one can click on the sneaky toggle-image to be taken the eBay auction! Though, I guess that might make it harder for me to win...
---