News Details
Transformers Coupons - $5 From Walmart
Not being 100% conversant with the business and sales practices that Hasbro and big box retailers use to move product, I can't be totally sure what this means, but this week both Target and Walmart are running pretty substantial coupon discounts on the Dark of the Moon Transformers movie line. Interestingly they are running identical promotions, where you can get $5 off of a purchase of $5.99 or more. My initial reaction is that the line has stopped selling, and this is the effort to kick it into motion again. For both stores this cleverly comes just shy of netting you a basically free Legion class figure (as they are less than $5.99), where they hope you'll have to upgrade to something else and walk away with a mini-Flak for free and be glad about it. The Target one can be printed from
here
and I actually stumbled into the Walmart one today, totally unaware of its existence.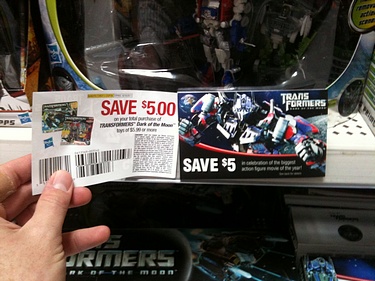 According to the Twitter, these aren't showing up in every store, at least not yet. It's rare that I see something that's not already commonplace everywhere else around the country! Given that these short-lived mighty coupons have an expiration date of 10/16, they had better start turning up elsewhere or it'll be moot in short order.
I was happy that, shortly after making my discovery and snapping my sneaky photo, a kid showed up desperately trying to convince his Dad to get him Deluxe Roadbuster. The Dad was not too keen on the $9.88 price, so I couldn't help but kindly point him towards the coupon - after his double-take at what a good deal it represents, he thanked me and junior got his toy. That's how the hustle flows, Hasbro.
Posted by charlie on October 6th 2011, 06:43 PM
Leave Comment

Share
---
doctorkent
October 6th, 08:23 PM

The line is backed up at every store around me. Pegs and pegs full. Maybe people finally have enough Bumblebees to be satisfied.
cparry
October 6th, 08:55 PM

Well, I know I have had enough! Though, having said that - I'm still sort of fascinated by whatever nonsense is going on with the Legion class Bumblebee figures in this line. I have never seen a Bolt Bumblebee, which comes on a card just saying 'Bumblebee'. Plus, a photo I took of the first Stealth Bumblebee from wave 3 which I ever saw, did say 'Stealth' on the package, but now none of them do. Oh Hasbro - what are you playing at!?
---