News Details
2011 Lego City Advent Calendar - At Target!
Over on
Twitter
I've made no bones about the fact that I think Christmas is starting even sooner than ever at retail this year, and that it's just getting crazy. I mean - we used to say that starting before Thanksgiving was a stretch, and now nearly every store is having some serious product identity crisis, with skeletons and witches competing with animatronic illuminated deer for shelf space. Makes me feel like I'm taking crazy pills when I wander around!
Well, I had to eat a few of my words today when I randomly discovered the Lego City Advent Calendar for 2011 in the Target Lego section! As long time readers of the Preserve know, that's one of our favorite yearly traditions around here, and I almost always forget to pick up a calendar until they are nearly all sold out. Additionally, I often managed to find one at my local Borders store - the only retailer I knew of who carried it - and that's no longer an option. Discovering that Target had these sets (only 2 left!) in stock really made my day, and melted a bit of the Grinch that I'd been channeling. Granted, I still think we could let Halloween have it's due, but I'm so excited to have the Advent Calendar here at the Preserve, I'm willing to overlook a lot of things!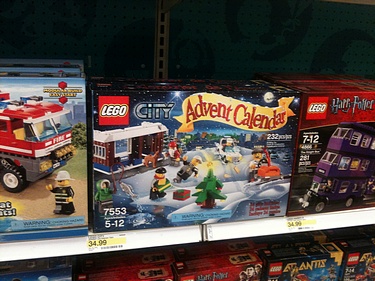 Posted by charlie on October 12th 2011, 05:46 PM
Leave Comment

Share
---
No comments have been posted.
---