News Details
G.I. Joe - 30 for 30 - Renegades Cobra Commander
Let's finish up the small Renegades wave of G.I. Joe figures that is in stores even as I type this, with Cobra Commander! It seems that this was a very polarizing figure, with some toy reporters really digging it, and some wishing to commit it to the depths of the sun. Well, I think that an open mind is a useful trait in almost any weather, and find that, along with the rest of these figures, I like the chances that were taken with the styling of here. Click the image below for the full gallery and bio of this most recent incarnation of Chris Latta's doppleganger!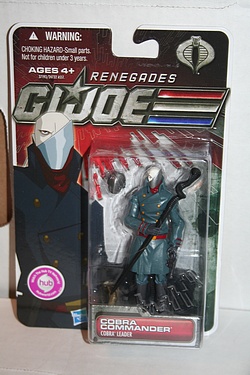 Posted by charlie on November 8th 2011, 07:48 PM
Leave Comment

Share
---
No comments have been posted.
---