News Details
Batman: Stealth Strike - Gear Up Batman
I worked pretty hard a year ago or so to build out the
Batman: The Brave and the Bold checklist
here at the preserve, but didn't keep up with the strange re-branding of the line that took place with the 'Total Armor' set of 2010/2011. However, imagine my surprise when on a Target Run this week I discovered what were clearly more new figures in this unkillable line, now re-re-branded as 'Stealth Strike'! So, with the full, manageable set of figures there in front of me, I just couldn't resist - and they even managed to make a non-Batman figure...amazing! The Riddler is pretty great, and is getting a lot of positive chatter on line. We'll start with 'Gear Up Batman', a figure with a removable cowl, pretty cool!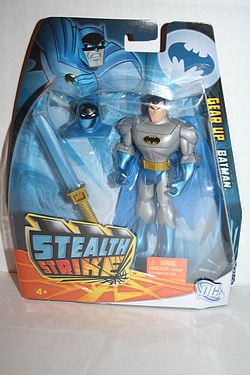 Posted by charlie on November 9th 2011, 09:00 PM
Leave Comment

Share
---
No comments have been posted.
---