News Details
eBay Watch - Autographed Magnavox Odyssey
This great
eBay auction
, which only has about 22 hours left as of this posting, has been floating around the Internet for a few days, but I just had to share. Not only am I a fan of the Odyssey system - even though there is not currently one in the archives of the Preserve, but I am also a fan of
Ralph Baer
. This auction combines both of those things, and it's a sight to behold. Always sad to hear when someone must part with a prized part of their collection due to difficult personal circumstances, but we may all rest easy knowing that this piece is almost certain to go to another serious collector who will care for it well. If you watch carefully, I suspect we haven't seen the last of this signed console! Click the image to be taken to the auction and see for yourself.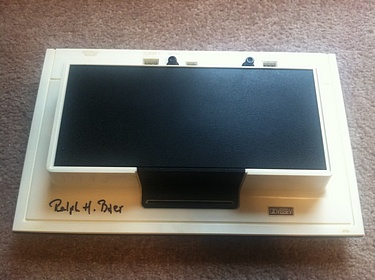 Posted by charlie on November 17th 2011, 08:59 PM
Leave Comment

Share
---
No comments have been posted.
---