News Details
eBay Watch - Burt Gummer, Monster Hunter
There have been a surprising number of props from the Tremors TV show circulating around eBay this week, and by 'surprising amount' I mean more than zero. For as recent as that show was, you don't end up seeing very much from it - but today we have a copy of "Burt Gummer, Monster Hunter" available for our bidding pleasure! It combines two things that have a powerful draw around these parts: VHS tapes and Perfection Nevada's most enthusiastic survival expert - I will have to throw my hat in the ring on this one, so I'm counting on no readers of the Preserve really caring beyond about $20. Heck, you know if I win it I'll take pictures and post them here! Save your money!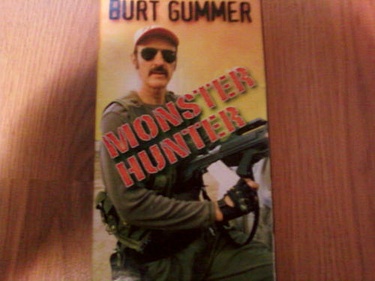 Posted by charlie on November 18th 2011, 08:26 PM
Leave Comment

Share
---
doctorkent
November 19th, 09:46 AM

This sounds like the type of item you set the snipe high on. Just in case.
cparry
November 19th, 04:08 PM

An excellent idea - and always better to put a few extra bucks towards something that is flat out rare. It will be interesting to see what it goes for!
doctorkent
November 24th, 06:12 PM

So, did you win?
cparry
November 24th, 06:51 PM

I sure did! It wasn't pretty, but it'll be on the way to the Preserve headquarters shortly.
---