News Details
Ghostbusters - Slime Blower Ray Stantz
Let's finish up the month of November with the October 2011 Ghostbusters figure from mattycollector.com - Slime Blower Ray!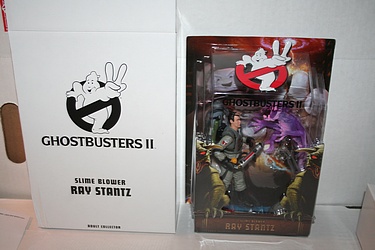 Better late than never, right?! When I read the quotes that Toy Guru and the crew put together for the bio card on this figure, I'm reminded that I really need to re-watch GB2 a few dozen times. While I'm sure that it is a fairly common situation, it's a shame to know the first movie backwards and forwards, but to have entirely forgotten movie 2. Of course, Billy Murray would be glad to hear that, but I feel I should refresh my memory. Anyway - enjoy this figure, and get ready for the hard-to-get figures for 2012, which will require the awful monthly website battle, now that Club Ecto has been cancelled!
Posted by charlie on November 30th 2011, 08:44 PM
Leave Comment

Share
---
No comments have been posted.
---