News Details
Lego Advent Calendar - Day 5
We fast-forward our narrative to the present day, where the jail building has grown in usefulness, by having more than a single wall. While it still won't retain many a common criminal, it does allow Gendarme to run his new Lemonade and Armchair Psychiatry office! Thug stops by, now mended in his ways of crime, to see how his buddy is doing. Another successful business in town is always a good thing, as a rising tide lifts all ships!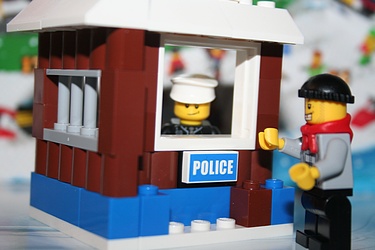 Seriously though, I was a little surprised that two days of our highly limited 24 have been dedicated to building sides of a fairly nondescript police building - let's get it in gear, Lego! I want to feel some holiday creativity!
Posted by charlie on December 5th 2011, 01:15 AM
Leave Comment

Share
---
No comments have been posted.
---