News Details
Sega Master System - Ghouls'N Ghosts
Hoping to avoid boring anyone with the monotony of the Lego Advent Calendar every day, I'll throw a curve today with Ghouls'N Ghosts for the
Sega Master System
! This game is the second entry in the Ghosts'N Goblins series, and was released in arcades by Capcom in 1988. This 1990 Master System version introduced a power-up system, allowing Arthur to upgrade aspects of his armor and visit secret shops - indeed!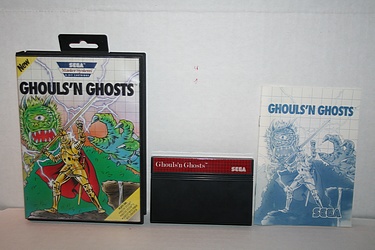 At the risk of seeming like a somewhat unskilled gamer (truth be told!) I always found that the Ghosts'N Goblins games were particularly skilled at kicking my posterior. This title is no exception, though the added dimension of strategy with the upgrades is both helpful and infuriating at the same time (as well it should be!). A solid, and honestly somewhat rare title in the Master System library, I'm delighted to finally add this one to the Preserve!
Posted by charlie on December 8th 2011, 12:05 AM
Leave Comment

Share
---
doctorkent
December 9th, 05:12 PM

The Goblins series is one of the toughest in all of existence.
One of my crowning life achievements was making it to Level 2 of the Arcade version on one quarter with a joystick where down was broken. Yeah, I did a level and a half with NO ABILITY TO DUCK.
cparry
December 9th, 08:10 PM

Dang - that's why you're the king. Or at least The Doctor. Grimlock is king.
---