News Details
Post a Comment Fool
Regular Preserve reader Clive, as well as others one hopes, will enjoy the additional visual encouragement that now exists on the comment posting page. Keep those suggestions coming.
In case anyone was wondering what a crate of 200 Punisher comics looks like, this is a pretty good example: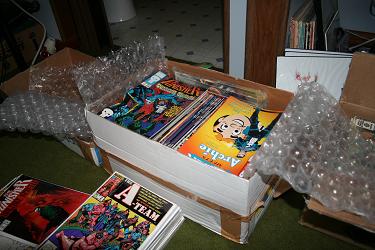 The A-Team comic and the stacks around the box are all from a great lot that Change just sent to me - he continues to stoke the fire of my new collecting obsession, every shipment containing numerous Pandora's Purchase issues, opening up my eyes to entire new series!
Posted by charlie on June 14th 2007
Leave Comment

Share
---
bde
June 14th

Based on the background of the picture, you've got enough comics for a year's while of number two's. Keep up the good work!
cparry
June 14th

That's right man: Archie vs. Punisher vs. last night's Indian Curry.
ch
June 15th

My suggestion - RSS feeds, 'cause I'm lazy.
cparry
June 15th

It's the clash of the laziness (I have some mental block against RSS :-)
---