News Details
Army Gear - Knife / Attack Boat
The last unusual, little seen
Army Gear
set that I posted recently seemed to be pretty popular, so here is the second rare set that I managed to pick up, both at the same time no less! This is one of the "play" pocket knives in the series - I believe there is also a red one (that I may very well have someplace!).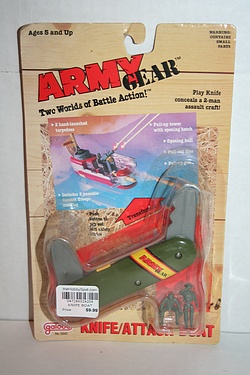 These must have been a pretty hard sell for parents when this line was originally in stores - or not - how should I know! I just imagine these sitting on the shelves like the comically endowed Rita Repulsa from Power Rangers Samurai appears to be doing. Shame about that Rita - I thought she'd be a rare chase figure, but there's been one at my Target since before Christmas! Maybe such an effect would have (somehow!?) contributed to the rarity of these play knives in 1988, but at least one has survived to make it to the Preserve in modern times, and for that, we thank you!
Play Knife conceals a 2-man assault craft!
Posted by charlie on January 18th 2012, 07:23 PM
Leave Comment

Share
---
Ben
January 20th, 07:33 AM

I just got this from eBay last month, and I bought the red one loose at a toy show about a year ago. Supposedly, there is also a white one. Thank goodness there aren't all these color variants in the rest of the line!
cparry
January 20th, 07:40 AM

A white one! Egad! Yes it seems that they went repaint-crazy for this model, but thankfully didn't let that creep into the rest of the line. Guess I'll continue to keep an eye out - if you ever see the white one please send a pic!
---