News Details
Transformers - Reveal the Shield Lugnut
There are a number of holes in the 2009/2010 Transformers galleries, but I'm finally remembering to patch one tonight with the Voyager class Reveal the Shield Lugnut figure! A personality that we all got to know through the Transformers: Animated cartoon, the bio for this figure highlights that we can imagine all those same qualities, but cast in a darker light. Click through the image below for the stats on this more-hard-edge and powerful Decepticon thug!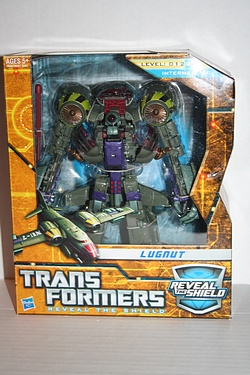 Posted by charlie on January 19th 2012, 07:28 PM
Leave Comment

Share
---
No comments have been posted.
---