News Details
G.I. Joe - Pursuit of Cobra - Skydive
I've pretty much given up finding the full line of figures from the
Pursuit of Cobra
series of last year, in spite of a fairly consistent canvasing of what passes for retail outlets in my small town. This always sort of sours me on a line, if I was unable to ever see whole chunks of it, which is of course no fault of the line itself! Still, I was happy to find what I can only assume were scalper returns of Skydive and a Cobra Shock Trooper just several weeks ago at Walmart, and so at least I can feature them as part of my woefully incomplete gallery! Click through the image to learn all about Lynton N. Felix and his jumping prowess!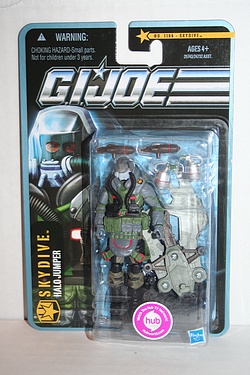 Posted by charlie on January 23rd 2012, 02:01 AM
Leave Comment

Share
---
No comments have been posted.
---