News Details
Indiana Jones 30th Anniversary Set
I finally got around to posting this simply beautiful Indiana Jones set, which was an exclusive to San Diego Comic Con in 2011. When Hasbro surprised us with this set at Toy Fair last February, I was so delighted, given the time and effort I put into the
Indy line
. I know we were all sad to miss out on the last wave of figures, most notably German Mechanic and Toht, and now we all had a chance to finally complete the series!
Well, I didn't make it to California, but I had good luck during the frantic hasbrotoyshop.com 'leftover sale' that happened shortly after the convention, and managed to snag one of these sets without paying for airfare and FedEx - a bargain for sure! Click through the image for a few shots of this set - I know, I should open it eventually!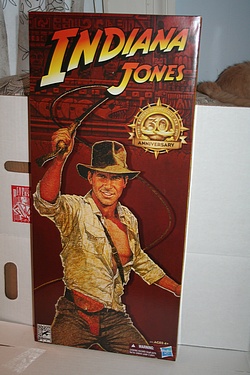 Posted by charlie on January 25th 2012, 11:57 AM
Leave Comment

Share
---
No comments have been posted.
---