News Details
Transformers: Prime - Legion Class Arcee
Ok, Toy Fair may be only a few short days away, but this morning I managed to score the first figures I've seen from the new
Transformers: Prime
series, and am delighted to feature them! DoctorKent and I puzzled over the strange 'Series 2' marking on the back of this new line of Cyberverse Legion figures, but finally decided that they are simply extending the 'Series 1' set from the
Dark of the Moon
movie line. Looks like they may be stretching the Cyberverse brand across the different years and incarnations that we will see going forward. Of course, confirming this at the show will be some sort of priority, to be sure!
As always, click through the image below to check out the latest bio and stats for the rarest of rare Transformers, a girl one! Maybe Hasbro will announce "Transformers: Friends" at the show...I mean, we got Kre-o last year.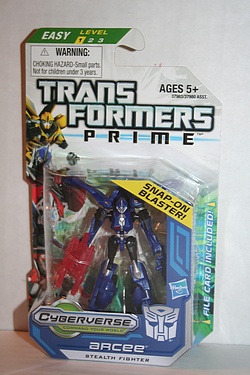 Posted by charlie on February 8th 2012, 09:31 PM
Leave Comment

Share
---
doctorkent
February 9th, 06:38 AM

HA! You bought them. I took all your standard pics and was going to e-mail them over to ya, pre-work being what it is this week.
cparry
February 9th, 07:34 AM

Oh no, now you'll be discouraged from future content contribution! I knew I should have kept that rusty old wallet closed!

Of course, I could still use pictures of the OPEN figures :-)
---