News Details
G.I. Joe - 30 for 30 - Cobra Trooper
This wasn't exactly what I had in mind for today, but you know what they say about the best laid plans. Either way, I suppose, this is still a fine way to end the week, and keeps with our theme of catching up on the
G.I. Joe 30 for 30
line with the Cobra Trooper!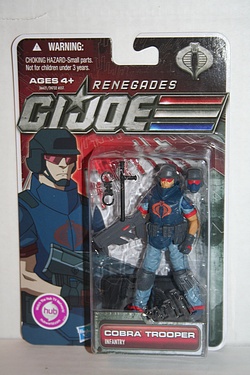 Interestingly, thanks to the gentle advice of several twitter friends, bringing me up to speed with what is probably relatively old G.I. Joe retail news, Storm Shadow is so pricey on the secondary market because he's apparently been dropped from the line in deference to using his sculpt in the upcoming movie products. I guess that sort of makes this the '29 for 30' line - oops Hasbro!
Posted by charlie on March 9th 2012, 10:32 PM
Leave Comment

Share
---
No comments have been posted.
---