News Details
G.I. Joe - 30 for 30 - Techno-Viper
Well, I still haven't managed to track down Storm Shadow from the
G.I. Joe 30 (29...) for 30
line, but at least I have a
Techno-Viper
to show off today, and here he is! As usual with these figures, you feel like you're getting your money's worth with a pile of great accessories and a well articulated, carefully sculpted figure.
Word on the street is that Storm Shadow is again included in the new Renegades shipments that are arriving in stores, so we should all keep our eye's peeled! (gross!)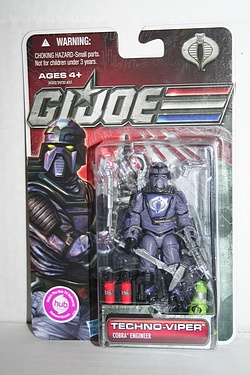 Posted by charlie on March 19th 2012, 07:46 PM
Leave Comment

Share
---
No comments have been posted.
---