News Details
eBay Watch - Rock Lords Sabrestone
There have been a number of sightings of the 'harder to find' Rock Lords on eBay lately. In particular, I've seen several of the rare series 3 figures Spearhead and Sabrestone, even in some instances with their weapons! This one caught my eye, though, because the coloring seems like it may be the Japanese version, which is one I think I may not have seen anyplace as yet. Or - maybe it's just the lighting when the photo was taken. Any vintage savvy readers of the Preserve, feel free to chime in!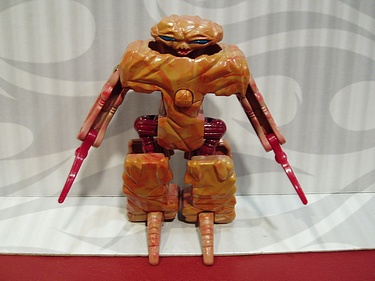 Posted by charlie on March 28th 2012, 09:24 PM
Leave Comment

Share
---
Ben
March 29th, 01:34 PM

Somehow, I've managed to score two Sabrestones (one complete with weapon) for next to nothing, but Spearhead still eludes me. The Jewel Lords are REALLY tough. Managed to get Flamestone for five bucks at a flea market last year, but I've accepted the fact that unless I find a complete one somewhere, he's not getting his weapon anytime soon!
cparry
March 29th, 01:38 PM

I had picked up a Flamestone on eBay, of course without weapon, for a decent price some time ago. Then, amazingly, someone a few months back was selling *just* his weapon. I decided to 'reunite' the two of them, which is always fun to do...but I think the weapon cost me more than Flamestone!

Apologies if we were bidding against each other ;-)
doctorkent
March 29th, 07:41 PM

I have a complete Sunstone.

I'm just going to throw him into a room that both of you are in and lock the door. Survivor gets him!
cparry
March 29th, 07:47 PM

Here's my ridiculous youtube video of me transforming Sunstone - but true, I don't have the weapon :-)
http://www.youtube.com/watch?v=ec7yh8oZrRg

I even mention in the video that I'm missing the weapon and sound all disappointed about it! Guess you may have a point afterall. But I can't defeat one of the only readers of the Preserve who bothers to leave comments...!
---