News Details
eBay Watch - Rocks & Bugs & Things!
Wow - this auction has ended, which is tragic because it would have been fun to watch the price escalate, but this set of Rocks & and Bugs & Things is just amazing. I know how much DoctorKent likes this line, and it's likely that he has a comparable collection so this will contain few revelations for him. The only place I've ever seen so many boxed examples from this line is in his own toy room!
The auction may be over, but have a look anyway for some more great images and the final asking price (spoiler - $661!)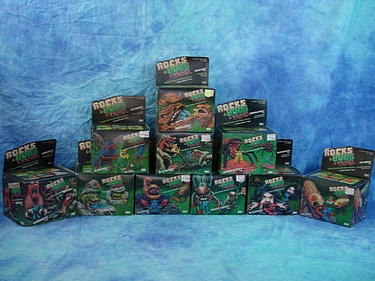 Posted by charlie on April 11th 2012, 08:01 PM
Leave Comment

Share
---
doctorkent
April 12th, 05:42 AM

Here's my only issue on this lot - they didn't specify if the figures were sealed. If they are sealed, the Mordles should be inside. But someone who just looked in the boxes and saw the Rock/Bug might overlook that... Notable because only the second time I have ever seen a boxed Rockadile.
cparry
April 12th, 10:19 AM

Had you noticed this lot before it sold? I know you usually keep up with this sort of thing. Glad you restrained yourself :-)
Ben
April 13th, 10:50 AM

Good point, John. I know the collectors of little rubber guys love Mordles and are willing to pay a fortune to get the chance to own ones that they need. They're probably worth more than the actual rocks/bugs.
cparry
April 13th, 10:59 AM

I'm currently in touch with the seller, to get his permission to use the images - so I can ask that question if you two are dying to know!
---