News Details
Transformers Prime - Voyager Class Optimus Euro Style
Friend of the Preserve, Kaars, has stopped by to bring us more images of
Transformers: Prime
figures from distant lands! Well, at least for those of us living here in the States - I'm glad to have such a globally diverse readership here at the Preserve. What we have today is Voyager Class Optimus Prime, in all his Euro glory. More amazing still? I haven't see this figure myself on my local store shelves! Seems my Target has atoned for their very brief flurry of shelf-stocking a month ago, and we're right back in the land of empty pegs and 2009 Spider-Man figures.
Also, I have to point out the French bio line, which hilariously includes both 'chef' and 'parfait'.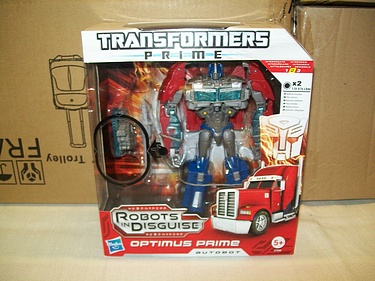 Optimus Prime est le Chef de Combat parfait, face auquel le mal n'a aucune chance.


Posted by charlie on April 25th 2012, 05:12 PM
Leave Comment

Share
---
kaars
May 6th, 11:01 AM

hello, I was wondering if you would be able to find the Mechtech Deluxe Wave 5 from dark of the moon. I've been looking all over Belgium and couth'nd find it anywere. Thanks
cparry
May 6th, 12:17 PM

Unfortunately that wave was very scarce around here as well. The figures that I have pictured in my Checklist I saw only one time in the store, and didn't buy! I'll keep an eye out in case they pop up in TJ Maxx later this year.
kaars
May 6th, 11:23 PM

oke thanks
---