News Details
eBay Watch - Sega Master System - Dynamite Duke
While it would be a few years yet, until Sega started leading the delightful and campy charge into the world of "FMV" cd-based games in the '90s, the cover of this Sega Master System (import) title sure does scream "15-frame-per-second postage stamp" to me! It may very well be nearly as awesome, but for different reasons. Heck - you could blow that image up and stick it on the backglass of a pinball machine and I think I'd play it every day.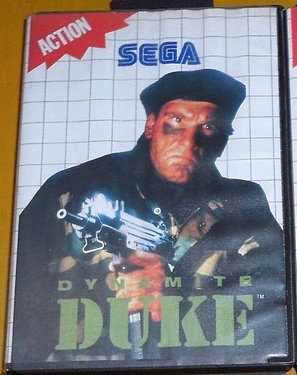 Posted by charlie on April 26th 2012, 09:31 PM
Leave Comment

Share
---
Ben
April 30th, 08:35 AM

I miss the shooting gallery genre of video games. Wild Guns for the SNES is one of my all time favorite video games, period, and yet hardly anyone I know has even heard of it.
cparry
April 30th, 08:47 AM

I admit to being woefully unfamiliar with the spectacular SNES library, given that I was a Genesis owner during that particular era of gaming. I never really quite caught up with all that I missed, even though I certainly own the hardware now. I think that I'll need to track down your suggestion!
---