News Details
eBay Watch - 1988 Parker Bros Toy Fair Catalog
I'm convinced that the recent spate of toy catalogs available on eBay, and their subsequent lofty selling prices, has ushered in a lovely renaissance of such sales! I'm seeing odds and ends pop up from across a number of different brands, one of which being Parker Bros! Here is their
1988 Toy Fair catalog
, and the giant, gesticulating Daddy Moneybags on the cover made it a shoe-in for the front page of the Preserve today!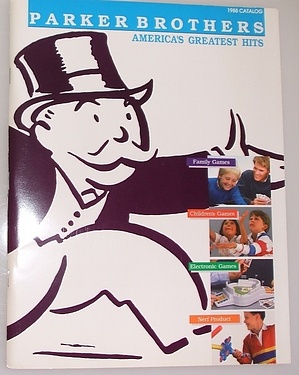 Posted by charlie on May 15th 2012, 09:33 PM
Leave Comment

Share
---
Ben
May 16th, 03:14 PM

It's a shame the seller doesn't have 1989. That's the year Parker Bros. released Spinjas, and I wouldn't have minded getting a hold of the product catalog to see if they had bigger plans for the line.
cparry
May 16th, 03:26 PM

The way things are going, if he did have it you might end up with a $100 ebay bill!
doctorkent
May 16th, 04:05 PM

I have probably said this to both of you before, but the truly rare catalogs aren't Mattel and Kenner, but everything else.
cparry
May 16th, 04:47 PM

Definitely - I see those 1982 Kenner ones all the time - but had NEVER seen the Panosh Place ones before!
---