News Details
eBay Watch - January, 1951 Playthings Magazine
Back issues of Playthings magazine have always been tricky to come by, but now they are just getting ridiculous. I haven't seen a single issue show up on ebay in months, and the last few which did all (understandably) sold for $30 or higher. Here, then, is a pretty thing for us all to ooh and ahh over - a January 1951 issue of the definitive industry mag, with some page popping Alice in Wonderland artwork on the cover! There are actually
two
issues
posted currently, clearly from a Wonderland collection, interestingly enough. I encourage you to throw in a bid on this rare auction - while I would be fascinated to see what lies between the covers, it is a tad outside of the sweet spot of the Preserve, decade-wise!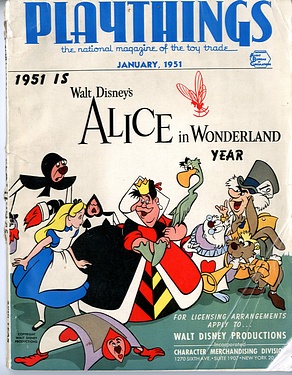 Posted by charlie on May 21st 2012, 11:32 PM
Leave Comment

Share
---
No comments have been posted.
---