News Details
eBay Watch - Nintendo Balloon Fight
I've always been a fan of Nintendo's 'Black Box' games - I guess dating all the way back to 1985! As you all likely remember, that is the pet name given to the first set of NES games that came in the black package with the hilariously low resolution pixel art on the covers. I thought they were beautiful, myself, and think so even more now! Well, while some of the titles are still in the 'somewhat common' price range, others keep going up and up. Heck, even the lowly
Duck Hunt
is experiencing a resurgence in popularity - thanks hipsters! As such, I couldn't resist celebrating that this copy of
Balloon Fight
has just hit the $100 mark - guess it'll be a while before I finish off my collection!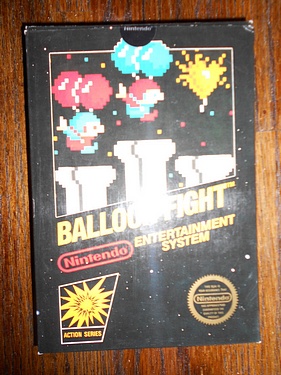 Posted by charlie on May 23rd 2012, 06:56 PM
Leave Comment

Share
---
doctorkent
May 23rd, 08:19 PM

I have to think that of the original games, Balloon Fight is one of the harder ones to obtain.
cparry
May 23rd, 09:13 PM

I'm certainly not the gold standard or anything, but I certainly didn't have this one either!
---