News Details
eBay Watch - 1985 Sears Toy Specialog
Due to my late-onset toy catalog fascination, I spend a considerable portion of my eBay searching time looking for dealer catalogs and, of course, the famous Sears catalogs of historical record. As we've seen lately, I don't do a very good job at winning any of these items, but it doesn't stop me from window shopping!
Here's one today that I found particularly lovely, in all of it's tattered and faded glory - the 1985 Sears "Specialog" catalog! The cover is rocking Baron Von Joy - one of the best named figures in history - and a sure indication that delightful things await inside. Much like the change machine from yesterday, I guess I'm on a 'well used' kick this week, where things were clearly enjoyed and had a good life - instead of living in a high castle. Let's hope many happy christmas presents were ordered from this catalog, and also hope that it can itself become part of a collection now that the shadows grow long and the UV rays grow hot.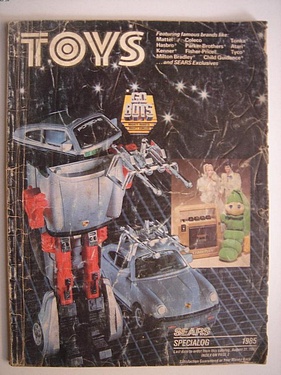 Posted by charlie on May 30th 2012, 09:11 PM
Leave Comment

Share
---
No comments have been posted.
---