News Details
eBay Watch - Rock Lords Sabre Stone and Speadhead
One of these days I really need to break down and add Sabre Stone from the rare later-series Rock Lords line to the Preserve collection. I think the wacky and improbable weapon that the figure sports is the greatest draw of my attention, and in a highly unusual turn of circumstances there are two complete examples of this figure available on ebay right this second! Here is
one of them
, and you get a Spearhead figure along with! This auction is still a great bargain, especially if you happen to be missing both of these figures, or know of a hot trade you can make. Sure it has to come over from jolly ol' England (Gravesend! Blimey!), but think how worldly and well versed in the methods of fried cod preparation they will be upon arrival!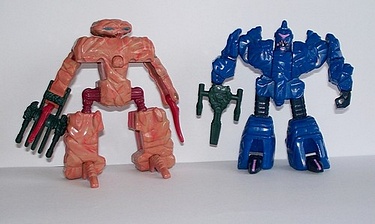 Posted by charlie on May 31st 2012, 10:29 PM
Leave Comment

Share
---
Ben
June 4th, 06:58 AM

Crap. I think I sold my extra Sabrestone (sans weapon) at a toy show a couple of years ago for like $15.
cparry
June 4th, 07:12 AM

Crap indeed! That figure is proving to be pretty rare and in demand, and the ending price for this auction was even higher than I had imagined. This makes the other complete one on eBay with the buy-it-now of $75 look like a possible good idea...
---