News Details
Arcade Auction June 16, Greater Philly Expo Center
Ahh, arcade auctions. Such a bitter-sweet thing! I believe that in a time when there were still arcades around, such auctions would be 100% exciting and fun, where collectors or would-be businessfolk could try to score some great games for good prices, for their own fun and profit! The cycle of life! Well, that cycle is a little more grim now that each and every such auction - which are very few and far between - represents the folding of another endangered species arcade.
Still, I feel compelled to point out the auction of Arnorlds Family Fun Center, taking place this Saturday June 16th at the Greater Philly Expo Center...at least
according to the ad
. And that's another thing - I'm pretty amused by the "eBay Advertising" and am sort of amazed that eBay hasn't removed the auction listing! But - it got the news to me, so well done! If you're in the area, and have some time, you really should go - it's a sight that you simply won't ever get to see again after several more years go by.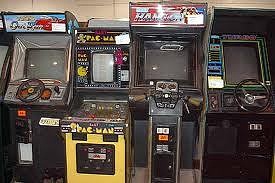 (Plus, they appear to have a Baby Pac-Man - nice!)
Posted by charlie on June 12th 2012, 05:08 PM
Leave Comment

Share
---
Ben
June 13th, 06:26 AM

Arcades are definitely "endangered," but in the wake of long-running arcades closing down, you have something that is now considered "vintage" that a few entrepreneurial minds are pursuing. We've had a couple of Barcade locations open up in Philly and Wilmington recently, and I will extoll the praises of Galloping Ghost outside of Chicago for as long as they're in business.
cparry
June 13th, 07:14 AM

I was fortunate enough to go to several of the Cherry Hill arcade auctions back around 2003 to get machines for my then-arcade. Every time was super exciting, and I'm so glad I got to have that experience - those auctions are long since gone.

For a fun way to pass the time, and to wish we all had more space and a truck and were in the right place at the right time, Mark at basementarcade.com did an amazing job of cataloging the hammer prices of machines from dozens of these auctions - have a look!
---