News Details
eBay Watch - Super Naturals Collection
Are you in the mood for a massive Super Naturals lot? Well,
this guy
certainly was! And now it can be yours! I just liked seeing them all lined up, ready for action, and thought you might as well. The price is climbing up there - will be illustrative to see how high it goes!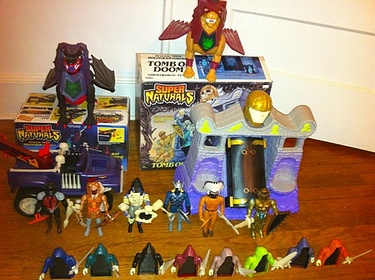 Posted by charlie on June 25th 2012, 09:22 PM
Leave Comment

Share
---
Ben
June 26th, 10:17 AM

The figures and the Tomb of Doom are relatively easy to find, but the vehicles and Dark Dragon are nigh impossible to find. I was VERY fortunate last year in that not only did I pick up a loose complete Dark Dragon for $50 (easily $100-$150 retail...if you can find one), but my parents managed to find a boxed Ghost Finder (the one item not included in this lot) for $5 at a flea market. I love this line and normally I'd go for this auction, but I have too much of the line already to justify going for the last two pieces I need.
Bahglenn
June 26th, 05:55 PM

My 1st experience with Super Naturals was via my cousin who bought me Skull, Lionheart & the heroic beast Lion Wings for Christmas in 1988. They were my only Super Naturals toys until a local drug store named Genovese had DOZENS of Ghostlings on clearance for $1.00 each. Between my best friend & I we bought all 8 of them (4 evil & 4 good). Since then, I've managed to buy & open MOC samples of Thunder Bolt, Burnheart & Eagle Eye, although never any of the vehicles or Dark Dragon- whom I admit would have been much cooler to get for Christmas of '88 then Lion Wings LoL.
cparry
June 26th, 06:07 PM

And the price still hovers dangerously around $140 - with the added info you've provided Ben, it seems that's a fair deal for any would-be SN enthusiast! I don't think I ever had any of these in the original collection, but I've been thinking about it...
cparry
June 26th, 06:08 PM

Fantastic collection assembly there Bahglenn - props to your convenient local drugstore! You and DoctorKent, always opening up MOC figures :-)
---