News Details
eBay Watch - Starcom Starhawk and Shadow Blast Track
Well, I had high hopes of getting another vintage toy catalog posted tonight, since they do seem to be backing up around here, but it takes a surprisingly long time to do that sort of thing and the evening was having nothing of it! The grass is looking nicer, and the super-secret project is further along, but without a toy catalog the evening feels partly finished.
However! Let's all have a look at the
latest Starcom auction
to grace my radar - we have a set of two Starhawks, and a Shadow Blast Track, not to mention the more common but still awesome Starmax Bomber. And all apparently sold by a person who typically doesn't deal in toys. I suspect the price will still get up there at the end, but it's pretty reasonable so far! I certainly don't have either of those more rare vehicles in the Preserve collection, so it's tempting, but you know how I am about original packaging (massive eye roll from doctorkent).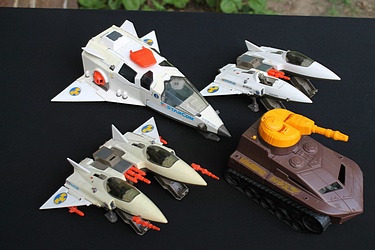 Posted by charlie on June 27th 2012, 07:53 PM
Leave Comment

Share
---
doctorkent
June 28th, 08:48 PM

Well, he has one complete Starhawk. The price for the auction is already too much. A definite skip. If you want real bargains, you are better off with eBay UK on the later stuff. They got a lot more of it.
cparry
June 28th, 09:02 PM

Agreed - I mainly liked the pretty picture :-)
---