News Details
eBay Watch - Air Raiders Man-O-War
I know that the auction is over already, and it's super lame of me to point you to it once it is no longer available, but the Man-O-War ship from the Air Raiders line is so rare that I just can't resist.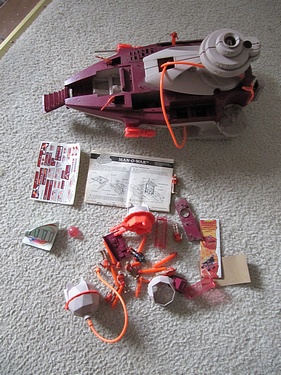 I'm fortunate enough to have my
original ship
, with the original box, but I think I've seen three copies of it on eBay in the last 10 years. This one was missing the little foam ball (true of virtually all examples of this ship 10 minutes after being opened) but did have an apparently robust set of documentation and an unused sticker sheet! A great score for someone - maybe it was even you, gentle reader!
Posted by charlie on July 16th 2012, 08:01 PM
Leave Comment

Share
---
Ben
July 17th, 11:04 AM

I had this on watch. It looked like some of the pieces might have been broken or snapped on it. That's what concerned me.

I actually found the shell to this toy at a flea market for five bucks. Missing everything, but I wasn't about to let it sit there. It was the first time I had ever seen an example for sale in person.
cparry
July 17th, 11:05 AM

Yes it certainly wasn't complete - at least it was missing the little foam ball. I'm proud to still have mine, given that I was apparently a very uptight and careful child! At least you, like DoctorKent, can go ahead and use the shell as a lost-tech transport for another race of beings within your collection, or so I'm imagining.
---