News Details
eBay Watch - 1972 Blythes are Pricey!
As a followup to the Blythe convention of last weekend, and to start to catch up from my abysmal lack of posts over the last week, I figured that I'd educate everyone a bit more about Blythe.
While you could certainly learn all you want at the
wiki page
, the key to understand is that Kenner brought these dolls out in 1972. Since they are sort of terrifying, I guess they didn't do well with the children, so that was the only year they were on the market...until...Takara! Now Takara is making them, so they are awesome and high quality. However, all us collectors immediately realize that those figures from 1972 must be pretty rare and expensive, and boy howdy is that the truth!
A quick eBay search for "1972 Blythe" will show you that the dolls average over $1500 each - not bad! Here's a nice one to serve as an example, of course in beautiful condition.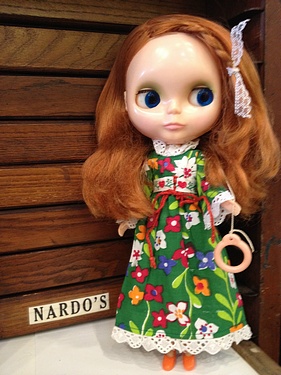 So everyone keep an eye out at your local yard sales and swap meets - here's another gem that you might discover!
Posted by charlie on August 8th 2012, 06:50 PM
Leave Comment

Share
---
doctorkent
August 8th, 09:19 PM

Just ask Mark Bellomo. he is way ahead of the curve on "girl's toys".

Disregarding that, value is always based on demand and rarity. Rarity is horrible because you could have probably bought a king's ransom of these "almost from a horror movie" dolls on clearance back in 72.
Of course, if that were the case, we'd all be rolling in dough. Instead, we are left to guess what it actually feels like to have a 12 inch Kenner Alien - and original Blythe dolls.
cparry
August 8th, 10:06 PM

And somewhere, somebody probably has that Short Circuit figure from the 1988 Matchbox catalog!
Ben
August 9th, 07:12 AM

I remember a few years ago I typed in "Kenner" just to see what would come up, and I probably did a "highest first" search, and that's how I discovered Blythe. I thought the prices they would bring were just a fluke...except they would consistently sell for those high prices. Believe you me, this is always something I search for at flea markets, although if one does appear, it probably goes before I even have a crack at it.

The new/collectible toy market is a direct result of cases like Blythe. Why is almost everyone who collects Star Wars figures a completist (like I was from 1995-2007)? Because everybody hated how difficult it was to get a Blue Snaggletooth or the last 17 POTF figures. My mantra has always been, "There is something that people aren't buying now that everyone will want in 20 years." The problem is that you can only take an educated guess as to what that item will be.
---