News Details
Selchow & Righter Catalog from 1985
If you're anything like me, and I suspect that at least some of you are, you didn't pay very close attention to the manufacturer of your Scrabble set when you were a kid. Well, that's part of the fun of this catalog voyage that we're all on, and I'm delighted to feature this
Selchow & Righter book
from 1985!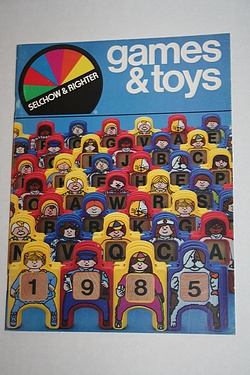 The opening text to this book proudly states that it is their 118th year - indeed a mighty accomplishment! There are all manner of cool things between these covers, not the least of which is the cover itself, featuring some splendid cut-out work. I was also delighted to learn about 'Scrabble People', who are a dip of the toe into the 'figure' market, which was of course amazingly strong in 1985. They even had play sets and vehicles! Don't believe me, check it out!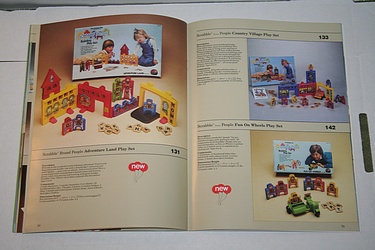 Certainly much of the book features variations on the main themes of Scrabble and Trivial Pursuit, and who can blame them. But they have a handful of other games you've probably never heard of, along with some very reassuring marketing plans and sales reps. We even learn about Alfreds Other Game!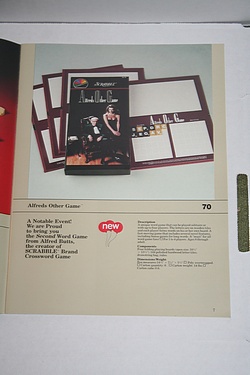 If anything sums up the '80s concisely, I think it is now
Alfred Butts
, board game tycoon and ladies man.
Posted by charlie on August 14th 2012, 02:35 AM
Leave Comment

Share
---
doctorkent
August 14th, 09:55 PM

I'm sure it will stun you to know that I had some Scrabble People.
I had the car...the people and the tiles went to the great Toy Beyond pretty early on, but we used that car with Gi Joes for years after. Might still be in one of my brother's junk bins, actually.

Good catalog to scan!
cparry
August 15th, 10:51 AM

You're right, I'm not surprised - but that's still a great story!

And still the theme continues, that there are cool things to be found in any catalog that I seem to post. My apologies in advance if some of the really odd ones I have on deck fail to be quite as exciting.
---